From time to time one of our members or another notable person from our chemistry community passes on. This page is dedicated to the memory of chemists who have had an impact on our profession, our Society, and our lives. We join their families in honoring their memory.
Some recent passings:
---
March 16, 2010
Thomas J. Kucera, 1925 - 2010
With great sadness we report that Tom Kucera passed away on Sunday, March 14, 2010. Tom served many roles in the American Chemical Society and the Chicago Section. Tom was a major force in organizing the first Chemistry Day Activity at the Museum of Science and Industry in 1986 and served as the chair of our Chemistry Day committee for a number of years. Tom was a Chair for the Section, a long-time Councilor, Trustee and Director, and received the Distinguished Service Award in 1990. He is a past editor of the Chemical Bulletin, and received the Chicago Section Public Affairs Award in 1995. He served on a number of Council committees, perhaps most notably on the Chemists with Disabilities Committee.
Tom received his B.S. from Loyola in 1945, M.S. from IIT in 1952 and Ph.D. from Purdue in 1953. He was a Fulbright Scholar in 1953-54. He retired from Apeco Co. in 1981 as VP for research and development, and established T.J. Kucera Consultants. He has been especially active with the Division of Professional Relations, serving as program chair. He has received both the Henry Hill and Lou Sacco Award from DPR. Tom also was active in the Chicago Technical Sciences Council.
Tom was in an automobile accident when he was in his thirties and has had to use crutches ever since. More recently he has been in a wheelchair and could be seen zipping about ACS meeting in a motorized wheelchair. Once a fixture at ACS meetings, declining health forced him to give up attending national meetings a few years ago. He is survived by his loving wife, friend and companion, Dorothy, and their children and grandchildren.
Tom has been cremated, and a memorial service was held on April 17. An obituary can be found here. Tom will be missed by all of his many friends and fellow chemists.
---
June 8, 2008
Adele L. Rozek , 1923 - 2008
Adele passed away on her birthday, June 8, 2008. She was a resident at Arden Court of Bingham Farms for over five years.

Adele graduated from Girls Catholic Central High School in 1941 and attended University of Detroit, graduating in 1945 with a B.S. degree in chemistry.

A longtime chemist in the herbicide industry, she was employed at Ethel Corp. and Sandoz Company. After retirning from Sandoz she joined Abbot Laboratories, where she worked part time for a number of years.

While living in Chicago, Adele was a volunteer at Resurrection Hospital in Park Ridge, Illinois and at the Art Institute of Chicago.

A world traveler who enjoyed new experiences and new places, she had just taken a recent trip to Antarctica. When not traveling, Adele enjoyed golf and skiing.
Adele was a former board member of the Chicago Section of the American Chemist Society, and earned her 60 year membership certificate. Adele served as Chair of the Section in 1986, and supported us in more ways than can be counted. She will be missed by her many friends in the Chicago Section.
The following is an update of the write-up by Elaine Anderson on the occasion of the Chicago Section's 1995 DSA award to Adele :
All of you remember Adele as Chairman of the Chicago Section ACS in 1986-87. Together with Steve Sichak (1985-86) the Chicago Section was awarded our first award for "Outstanding Performance by a Local Section."

Adele's family was originally from Chicago, but her folks went to Detroit where she was born. She attended the University of Detroit where she obtained a BS degree in chemistry.

Her first position was at Frederick Stearns & Company, a pharmaceutical house in Detroit. Following that, she worked at Ethyl Corporation on gasoline and petroleum products. Then she moved to Dayton, Ohio and worked for the University of Cincinnati at Wright Patterson Air Force Base. This resulted in the publication of her first book in collaboration with Freeman Bentley and Lee Smithson entitled "Infrared Spectra AND Characteristic Frequencies in the –700-300 cm-l Region".

In the late sixties she came to Chicago and joined Velsicol Chemical Corporation and very soon after joined the Chicago Section ACS. In 1986 Sandoz purchased the herbicide division of Velsicol and fortunately they remained in Chicago. In 1992 she retired from Sandoz but her retirement just lasted a short time, after which she agreed to work as a consultant at Abbott Laboratories in the Structural Chemistry department. Adele worked several days a week at Abbott for several years before finally retiring (again).

Adele was also a member of the Society for applied Spectroscopy and Iota Sigma Pi.

At that point Adele lived in Wooddale, IL. She liked to golf and travel and was quite a shutterbug. During the short time she was retired she found time to chair the committee for the redecoration of the common areas of the 15 story condominium where she lived. Getting all the residents to agree was quite a feat! She also volunteered at the Art Institute of Chicago for several years at the Information Desk. She then volunteered at the Resurrection Hospital in their gift shop.

Her service to the Section began in 1972 on the House Committee. In 1973 and 1974 as well as in 1982 and 1983 she served on the Hospitality Committee. In 1974 she was Chairman of the Program Committee. In 1973 and 1975 Adele worked on the National Chemical Exposition. She moved up quickly. In 1977-79 and 1990-92 she was a Director. In 1977 she served on the By-Laws Committee. In 1975 she was on the Long Range Planning Committee. She served numerous times on the Nominating Committee. For a number of years she was Chairperson of the Budget and Office Affairs Committee. The National Affairs Committee found her hard at work in 1987 and 1988. In 1987-90 she was an Alternate Councilor. Meanwhile from 1983-87 she worked on the Policy Committee. From 1985-86 she was Chairman-Elect, and then Chairman in 1986-87. Oh! we left out Chemistry Day which she worked on from 1986 when she was Chairman and continued to work on the committee nonstop. Adele had also chaired the ACS National Meeting Host Committee from 1993 and again chaired this important committee for the 1995 August National ACS meeting in Chicago. Adele never stood still!

---
December 1, 2007
Margaret Huston, 1921 - 2007
Margaret Huston,
nee Lally,
age 86, of Skokie. Beloved wife of the late
Dr. John L
., Professor, Dept. of Chemistry, Loyola University, Chicago; dear cousin of Mary Louise Leahy. A graduate of Rosary College, where she earned a B.S. in Chemistry, she received her M.S. in Chemistry from Loyola University in 1956. She was Chief Chemist for the Egg & Poultry Products Association. She was the second woman to chair the Chicago Section (1980) of The American Chemical Society. Her St. Peter Parish, Skokie, activities included 15 years as Co-Coordinator for the Ministry of Care. Memorial contributions may be made to Dominican University, Office of Institutional Advancement, 7900 W. Division, River Forest, IL 60305. Funeral info: 847-673-6111.
---
August 13 , 2007
Dr. Joseph Matt, 1920 - 2007
Dr. Joseph Matt, 87, a resident of Bettendorf, Iowa, formerly of Downers Grove, IL died on Monday, Aug. 13, 2007 of complications from head injuries sustained in a fall. He is survived by his wife Barbara and his daughters Elizabeth Turner, and Susan Matt and grandchildren.
Dr. Matt was born on Jan. 10, 1920 in Minneapolis to Rabbi C. David and Lena Matt. In 1961, he married Barbara Jipson in Chicago.
A research chemist, he received his Ph.D. from Purdue University in organic chemistry, with minors in chemical engineering and biochemistry. He received his masters from Penn State, and bachelor's degree (with distinction) from University of Pennsylvania.
During a long career in industry, he was employed by Merck, Sharpe & Dohme, Armour & Company, Alkydol Laboratories, Velsicol Chemical and for over 20 years at Nalco Chemical. Dr. Matt was issued over 16 patents and authored several chemical journal publications.
He was a member of the American Chemical Society, Sigma Xi, Phi Lambda Upsion, and the Chicago Chemists' Club where for many years he edited the Chemists' Club newsletter.
Dr. Matt had many interests. He was an inveterate punster. He loved a good game of Scrabble. He and his wife were members of the Jackson Park Camera Club and for 18 years they exhibited their photography at art fairs throughout the greater Chicago area. He loved classical music and had great interest in political and world affairs. He was also a member of B'nai Brith.
---
March 7 , 2007
Fred Basolo, who helped reinvigorate the field of inorganic chemistry after joining the faculty at Northwestern University in the late 1940s, also wrote a seminal textbook on the subject and spent 60 years on the Evanston campus.
Although he officially retired to emeritus status in 1990, Dr. Basolo maintained an office on Northwestern's campus and attended Saturday morning meetings with graduate students until January, said Thomas O'Halloran, a chemistry professor at the school.

Dr. Basolo, 87, died of pneumonia Tuesday, Feb. 27, in a Skokie hospice, said his son, Fred Jr.
Read the full obituary at the Chicago Tribune.
---
February 21 , 2007
Albert Cotton was the 1980 Gibbs Medalist.
Dear Friends:


It is with deepest sorrow that I inform you that Al passed away at about on Tuesday, February 20, 2007. This is an immense loss for Dee and their two daughters as well as for all of us. Though we will all miss our good friend dearly, we can take comfort in that he went peacefully.

Befitting to Al, there will not be a traditional funeral. However, we will meet in a few weeks to celebrate his life in a memorial to be held in the College Station area. As soon as a date has been established, I will let everyone know. In lieu of flowers or other offerings, his family has requested that donations be made to the F. A. Cotton Endowed Memorial Graduate Travel Award in care of the Texas A&M Foundation, 401 George Bush Drive, College Station, Texas 77840-2811.

Requiescat in pace, Al!

Carlos A. Murillo

P.S. The cause of death was complications from pneumonia derived from a closed head injury
---
September 4 , 2006
Louis L. Lerner 1915 - 2006
Louis L. Lerner, emeritus and 50-year member of the American Chemical Society (ACS) died August 19, 2006 at the age of 91½. Lou was active in the Chicago Section ACS, and, in particular, served as editor of The Chemical Bulletin, from 1966 through 1970, consulting editor from 1971 through 1976, and again as editor in 1991. Among his many contributions to the Chicago Section, ACS, Lou established the Distinguished Service Award (DSA), because he always appreciated the efforts of unsung volunteers who carry out the usually thankless job of running an organization, and he felt keenly that some tangible form of appreciation was warranted. He served on the DSA Committee from 1973-78.
Additionally, Lou served as Section Treasurer (1979-80); Director (1976-78); Alternate Councilor (1973-88); and in various capacities on Section committees for Gibbs Arrangements (1971-72, 74-75); Public Relations (1965-67, 69-72); Mutual Fund chair (1975-76); Ad Hoc Elections (1975-76); Expositions & Exposition Substitutes (1976); Nominating (1974, 1978-79); Tellers (1977-79); Professional Relations & Status (1966-67); Education (1965-66); College Education (1965); High School/Continuing Education (1965-66); and the Ad Hoc Committee on Funding Plan (1974).
In 1977, during the National Chemical Exposition Art Exhibit run by the Chicago Section for the national ACS meeting in Chicago, Lou personally funded the Louis L. Lerner Chemical Bulletin Cover Award given to the painting receiving the most popular votes cast by visitors to the show. That painting, entitled "Tunnel Vision" (an oil by Dolores Kenney) was reproduced on the cover of the December 1977 issue of The Chemical Bulletin.
Lou received his B.S. in 1942 from Central YMCA College and taught a course in engineering science and management war training in 1945 at Roosevelt University. He took graduate courses at University of Chicago (1945-46); Northwestern University (1955-56); and Roosevelt University (1965). In 2001, Roosevelt University gave Lou its Edward J. Sparling Alumni Award.
Born February 25, 1915 into a family of modest means, he began his working career in his teens. Over the years, he worked at various chemical occupations, including CZ Chemical in Beloit Wisconsin, where he met his wife to be, Jean, and ran his own business. In 1949, Lou joined the Toni Company in Chicago as a research scientist, remaining with the company as a senior scientist and inventor after it became the Personal Care Division of the Gillette Company until 1974, when the Division was relocated to Boston. Lou then joined the Chicago office of the Federal Trade Commission in 1974 as a physical scientist, investigator and arbitrator of chemical complaint cases until his retirement in 1995.
Ever the inventor, Lou obtained about 97 patents during his working years in industry. His goal was to reach 100 patents, and he achieved it after his retirement. About two weeks before his death, Lou was still pondering other inventive concepts! In his retirement years, Lou became active in the cultural arts scene. He became a volunteer for the Lyric Opera of Chicago, eventually appearing on stage as a supernumerary in several operas, became a benefactor of education/outreach programs for children (Operakids) and sponsored singers in the Lyric Opera Center for American Artists.
His interest in music and theater also reconnected him with Roosevelt University where he helped provide the University's music students with season tickets to the Lyric Opera and generously funded theatrical productions and promoted the University's performing arts program. The December, 2005 issue of The Chemical Bulletin carried an article about how Lou was honored at a 90th birthday party given him by Roosevelt University, his alma mater, to both celebrate his life and his transformation of the University's performing arts program for the better.
Lou was, indeed, a hard-working, modest man and, until the very end, remained actively interested in the arts and sciences. He was enthusiastic and unselfish in his generosity, passionate in his quest to promote education and have justice done for, and bring joy to, others. In doing so, he created a legacy that has inspired others to do likewise.
Lou is survived by his wife, Jean, and his son, David. No local services were held and burial was private. Contributions in Lou's memory may be sent to Roosevelt University, Chicago College of Performing Arts, Attention: James Gandre, Dean, 430 S. Michigan Avenue, Chicago, IL 60605. Information for sending condolences to the family may be obtained by contacting Dolores Kenney at 312-580-1180, who was privileged to have been a long-time friend and former colleague of Lou.
Dolores T. Kenney
---
June 1 , 2006
Elaine Ruth Anderson, 1922-2006
Elaine Anderson, a long time active member of the Chicago Section, passed away at 84 on June 1. A memorial service was held for her at Convenant Village in Northbrook on Monday, June 5. An obituary appeared in the Chicago Trib also on Monday, June 5. Elaine will be missed.
Elaine was born on April 3, 1922 to Ernest and Ruth Anderson. She has one sister, Trillin Anderson Ergdahl. Elaine wnt to Peterson grade school and Von Steuben high school in Chicago. She received a scholoarship from the American Daughters of Sweden to go to the University of Chicago and received her Master's Degree there. She then taught at Barat College while waiting for clearance to be a chemical researcher at Argonne National Laboratories. Later she was employed at International Mineral and Chemical, the Portland Cement Comany, and the Mystic Tape Division of the Borden Company.
Elaine was a member and Director of the American Chemical Society of Chicago and received many honorary awards in her field of chemical research. She also was an active member of Iota Sigma Pi, and Sigma Delta. She was a member of the Covenant Women at North Park Covenant Church, very involved with the Peterson Woods Association and resident council at Covenant Village.
---
May 11 , 2006
Stephen Sichak Sr., 1928-2006
The Chicago Section has lost another wise, talented and vital colleague from its ranks. Stephen Sichak, Sr. passed away on Thursday, May, 11, 2006 in his sleep. This leaves a void in many of our lives. He will be greatly missed by his friends. His kind and patient spirit was evident to many of us as we saw him do what he enjoyed best, chemical safety with a passion.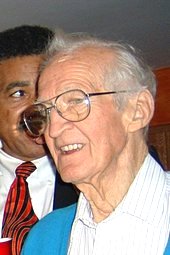 Steve was born on September 2, 1928 on the east side of Chicago. He attended St. Louis University where he received his B.S. degree in Chemistry. He also received a B.S. in microbiology from the University of Indiana. Steve began his career as a senior chemist with the Toni Division of the Gillette Company in 1956. In 1967, he was appointed Laboratory Safety Director. His career ladder included technical coordinator of product safety at Dr. Scholl, safety supervisor for ARCO and finally joining Argonne National Laboratories as a senior safety engineer. He remained there for ten years until his retirement in 1996. Steve authored and published "The Laboratory Safety Deskbook, I: A Guide to OSHA Standards".
Steve joined the American Chemical Society in 1960. He became active in the Chicago Section in 1964 on the staff of the Chemical Bulletin, where he served eleven years and one year as business manager. Also during that first year, he was active on the House Committee. His true interest and passion began in 1972, when he chaired the Safety Committee for the next three years. Steve continued to be a member Safety Committee either in the role of chair or co-chair, training others and under its new name, Environmental Health and Safety. Steve had also been involved with Chemistry Day since the beginning; acting in both the role of safety and an extremely active member of the committee. In 1984-85 he was elected Chair-Elect of the Section, and succeeded to Chair in 1985-86 and Past Chair in 1986-87. He held many roles in the Section including Vice Chair (81-82), Policy Char (81-82), Office Affairs and Budget Director (81-84), Professional Relations (72-73) and Nominating Committee (02). Steve has also served the Section faithfully as a director for fifteen years and as an alternate councilor from 74-79 and finally as a councilor from 1980 until his passing.
As seriously as he took his duties to the Section, he was also extremely active at the National level. Steve represented the Section as a councilor for twenty five years, at which time he served on Chemical Safety (Defunct) as a committee associate until the new Committee on Chemical Safety (CCS) was formed. He was a committee associate on CCS from 1988-1991 and full member of the committee from 1994 through 2003. Steve became a consultant to the committee in 2006. Steve also served as a member on Constitution and By-Laws from 2002 until 2003. He was active in the Chemical Health & Safety Division from 1993 to 2003 and chaired that Division in 1994. He was also a long time member of the Division of Professional Relations and active on the newsletter committee from 1979 to 2003 and a member-at-large from 2001 to 2002.
Steve received the Distinguished Service Award from the Chicago Section in 1994 and the Chicago Association of Technological Societies Merit Award in 1991. He was a member of the Executive Committee R&D Section National Safety Council and the National Fire Protection Association. He was chair of the Midwest Chapter of Cosmetic Chemists in 1976 and president of the Toastmaster International Argonne Club in 1990.
Steve's other love besides the Section and his family was his church. He was an extraordinary minister at St. James in Arlington Heights and on the Parish Council for 3 years. He loved to cook, with veal parmesan being one of his specialties. He leaves behind his devoted and loving wife Peg, 13 children and 16 grandchildren. Our prayers go out to his family.
---Fran Kravitz

---
March 22 , 2006
Nathaniel L. Gilham, 1929-2006
On Wednesday, March 22, 2006, a friend to many, a colleague, a gentle and quiet man passed away. In early February, Nat had a stroke. He spent many days in the hospital and then in a rehabilitation center before succumbing to pneumonia. He will be missed by many, especially by his friends at the Chicago Section.
Nathaniel was born on October 6, 1929 in Atlanta, Georgia to Reverend Dawson and Bertha Gilham. He was the youngest of four sons (Dawson Jr., Timothy and Titus) and one sister, Elizabeth, who died at age five. He attended Claflin College in Orangeburg, South Carolina from 1947 to 1948. In 1948, he transferred to Clark College in Atlanta, Georgia. He spent the next two years there until he enlisted in the United States Army, the Medical Corps, Laboratory Services in 1950. Nat achieved the rank of sergeant and was honorably discharged in 1952. He completed his B.S. at Clark College in 1956. During this time, he married Florence E. Edwards in October, 1953 and had four children (Vicki, Faye, Nathaniel Jr. and Joseph) in addition to his stepdaughter Sandra.
In 1963, Nat began his professional career as a biochemist at the University of Chicago Hospital until 1965. He then joined Oak Park Hospital as a clinical instructor of microbiology. In 1966, he began working on his M.S. in chemistry at Ohio Christian College in Columbus, Ohio. He completed his degree in 1968 and joined the Division of Biochemistry at Cook County Hospital as a Biochemist II working in the area of lipid, renal and gastroenterology. Interestingly, he also founded the Halsted Medical Laboratory as owner and director from 1967 to 1973. By 1973, Nat was promoted to supervisor of the Biochemistry Section of the Fantus Health Center Laboratory at Cook County Hospital.
Nat, as we know, was not one to do just one thing. In 1972, he began his academic career as a clinical chemistry instructor at both the YMCA Community College and the Medical Laboratory Technician Program at the YMCA Community College/Cook County Hospital. He spent ten years teaching at both. Concurrently, Nat also was a clinical chemistry instructor for the Medical Laboratory Technician Program at Malcolm X College/Cook County Hospital, which he retired from in 1991. During this time, he became a research associate in the Division of Urology Hekteon Institute working on the early detection of prostatic cancer using LDH Isoenzymes V/I ratio. He published many papers on this subject. Also during this time period, Nat was promoted again at Fantus Health Center and Pediatric Emergency Room Laboratory of Cook County Hospital to technical manager, Director of Laboratory Services until his retirement in 1991.
He earned many honors during his professional career including the recognition award from the College of American Pathologists of Fantus Clinical Laboratory and the College of American Pathologists of Pediatric Emergency Room Laboratory, certificate of recognition for distinguished service from the Department of Patient Education and Resources, certificate of recognition for teaching at Malcolm X College, certificate of tribute for ten years of distinguished service teaching at the YMCA College and the award of meritorious service for the Chicago Public Schools for Health -Hospital Training Projects.
Nat joined the American Chemical Society in 1976. It wasn't long until he became involved with the local section. In 1977 he started on the Tellers Committee which was closely followed by work on the Public Affairs Committee (78-88). He has been on Chemistry & Public Affairs (79), Nominating Committee (80-83), Policy (87), Environmental & Lab Safety (83-88), College Education (81-82), High School Education, Public Relations (86-87) and Chemistry Day (97-01). His pet project has always been the Chicago Board Liaison Committee (80-05) which he served as chair of the committee and most recently as co-chair instilling his wisdom for the chairs that will follow him on that committee. Nat was elected an alternate councilor in 1986 and was then elected as a councilor of the Chicago Section in 1987 until 2005. He served nationally on the following committees: Project SEED (83-93), Local Section Activities (94-01), Constitution and Bylaws (01-02) and the Admissions Committee (03-05). He was also a congressional science counselor for Sen. Charles Percy in 1979.
In his free time, he was a member of the board at Ada S. McKinley Family Services. Nat was also a member of Old St. Patrick's Church and founder of the church's choir. He leaves behind his children, grandchildren (Donzelle, Chilita, Cheron, Agnes, Nina, Alex, and Nathaniel III), great grandchildren (David, Darius, Christopher, Cornelius, Winston and William), his ex-wife, his oldest brother, Dawson and his very special friend and companion, Rosemary Traba.
---
January 12, 2006
Stanley Walter Drigot, 1915-2006
Update 4/1/06: A memorial service for Stan Drigot was held at 10 a.m. April 1 in Bond Chapel, 1050 E. 59th St., Chicago at the University of Chicago. Map. His daughters have asked me to remind you that you are welcome to attend. They flew in from Hawaii and California and look forward to meeting some of their father's long time friends. Check out what his daughter, Diane, has been up to.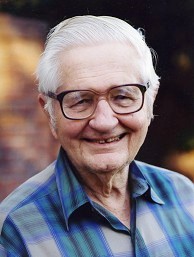 Stanley Walter Drigot, a practicing chemist for fifty years, whose volunteer services on behalf of professional chemists earned him a 2001 Distinguished Service Award from the Chicago-Section, American Chemical Society (ACS), died on January 9, 2006. He was 90 years old. Stan was a native of Chicago, Illinois, born to Lithuanian immigrant parents—Stanley (Sr.) and Anna Shimkaitis Drigot—on November 25, 1915. He received a B.S. in Chemistry from University of Chicago in 1936 and an M.S. in Analytical Chemistry from Wayne State University, Michigan in 1947. He met and married his wife, Genevieve, in Michigan, in 1944. They returned to Chicago in 1947. Over ten years, he worked in the successive employ of A.B. Dick, Continental Can, and Borg-Warner companies, then at GTE Communications Systems Corporation from 1957 until his retirement in 1985, when he and his wife moved to Saugatuck, Michigan. Throughout his career and after retirement, Stan made significant contributions as a volunteer both to his profession and to the communities in which he lived.
Stan's ACS colleagues noted that his sixty years of local and national committee work, especially 18 years on the Professional Relations Committee and one year as Chicago Section Chair were "crown jewels" of his service. He introduced many Section members to the "human aspects" of the profession and inspired them to likewise become involved. This was said to be "Stan's greatest service to the Section and its future."
During the early 1960's, when his two daughters attended Chicago public schools, he and his wife, along with other parents, were active in community support of educational quality and racial integration in the schools and surrounding neighborhoods. He was among a group of parents who filed a successful class-action lawsuit, helping to trigger resignation of a controversial Chicago Public Schools superintendent regarding these matters (1963). He was recognized by the Chicago Public Schools for 25 years service as a science fair judge. He was featured in a Saturday Evening Post article (Jan 25, 1964) representing 1,500 healthy American male volunteers in a national study confirming the link between cholesterol and heart health.
In Saugatuck, he was a valued volunteer with the Kalamazoo River Protection Association and for many years served as Chair of the Allegan County Local Emergency Protection Committee.
Throughout his life, Stan impressed many by his tireless public service, his kind and gentle nature, and his ability to lead quietly by example.
In addition to his wife Genevieve, he is survived by two daughters, Karen Stone and Diane Drigot, one grandson, a niece, and three nephews.
A service in celebration of Stan's life will be held at a later date. Condolences may be sent to the family via his wife, Genevieve Drigot, Box 661, Saugatuck, MI 49453. The family wishes any contributions in Stan's memory be sent to the "Marie Ann Lishka Memorial Scholarship", an annual award to a promising Chicago-area female high school chemistry student. Contributions should be mailed to the Chicago Section ACS, 7173 N. Austin Ave., Niles, IL 60714.
---
January 28, 2005
Fran Seabright, 1912-2005
Longtime Chicago Section member, Fran Seabright, died January 27, 2005. Fran received a M.S. in Chemistry and had been an instructor at U of I Chicago and a part-time travel agent for many years. She had been active in her church and had also been a member of Iota Sigma Pi. She lived in Elmhurst for many years and is survived by a son and grandson.

Though she was 92, Fran continued to attend our dinner meetings. Her cheerful disposition will be missed.
See the Women Chemists Committee article on Fran
---
March 20, 2004
John A. Pople, 1925-2004
1998 Nobel Prize winner knighted by queen
By Gina Kim
Tribune staff reporter
March 19, 2004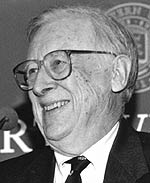 Awards and distinctions never affected lifelong academic John A. Pople. Whether it was the Nobel Prize in chemistry, election to the National Academy of Sciences or a knighthood, he remained a British gentleman with a quiet demeanor and fatherly air.
"Honors bestowed upon him didn't change his personality," said George Schatz, a colleague and professor of chemistry at Northwestern University. " He was the same person all the way through the end."
Mr. Pople, 78, died of cancer Monday, March 15, in his Chicago home.
Born and raised in England, he liked to recall how he biked 2 miles, rode another 25 on a train and then walked a mile to get to school every day.
At the age of 12 he became fascinated with mathematics and read cover-to-cover a calculus book he pulled out of a wastebasket, he wrote in his autobiographical summary for the Nobel Prize.
While most men his age fought in World War II, Mr. Pople and other science and math students entered the University of Cambridge in 1943 with the possibility their studies would translate into wartime research projects.
A few years later, Mr. Pople attempted to learn how to play the piano and hired Joy Bowers as his private teacher. They married in 1952.
"I don't think he was one of her best students," said their daughter Hilary.
Mr. Pople worked as a research student, fellow and then a lecturer at Cambridge and earned his doctorate in mathematics before leaving to head up the basic physics division of England's National Physical Laboratory in 1958.
After spending a yearlong sabbatical at Carnegie Institute of Technology in Pittsburgh, Mr. Pople joined the faculty of what later became Carnegie Mellon University to dedicate himself to theoretical chemical research in 1964.
He studied quantum mechanics at Carnegie and developed techniques that could accurately predict how molecules would react and connect to one another.
Those findings, which Mr. Pople incorporated into computer programs, continue to be used in chemical research ranging from pharmaceuticals to plastics, said Michael Wasielewski, chair of Northwestern's chemistry department.
"The computer approach allows one to model these processes without actually having to invest the time and effort to do them in the laboratory," he said. " Clearly there are things you can try on a computer that would be more cost-effective."
For that work, he received various awards, including the Nobel Prize in 1998, which he shared with Walter Kohn, a professor at the University of California in Santa Barbara.
The Queen of England knighted Mr. Pople last year.
Mr. Pople began living part time in the Chicago area in 1981 to be near his daughter.
He became an adjunct professor at Northwestern and then a full member of the faculty in 1993.
At home, he often scribbled intricate equations on pads of paper around the house, went on long walks and listened to classical music, his daughter said.
While he generally didn't discuss his complicated work with his family, he could talk about everything from history to Ingrid Bergman movies, his daughter said.
He also is survived by three sons, Adrian, Mark and Andrew; a brother, Don; 11 grandchildren and a great-granddaughter.
His wife died of cancer in 2002.
A memorial service will be held at 11:30 a.m. March 29 at the First United Methodist Church, 1630 Hinman Ave., Evanston.
Copyright (c) 2004, Chicago Tribune
---
November 28, 2003
Walter E. Kramer, 1920-2003
| | |
| --- | --- |
| Walt served in many capacities for both the Section and the Chemists Club. I happen to remember that he was Chair of the Gibbs Dinner for several years in the late nineties (I believe he was Margy's predecessor) and went to great length to make certain that it was a truly gala affair. Remember when Djerassi was the Awardee and he made certain that we had sweet potato pie for dessert? The reason being, of course, that Djerassi as an eminent steroid chemist had pioneered the utilizatiion of the Mexican yam as a source of starting materials for steroid-derived birth control pills. It really didn't matter to Walter that you really could not have made sweep potato pies from Mexican yams. He also served as chair of the Membership Committee and was Vice Chair at one time. I am sure that he served in other capacities, but I have no specific recollection of others at this time. | Walt Kramer celebrates his 80th Birthday |
Of course, he was probably more active in the Chemists Club. He always secured the wine for the annual Hoiday Party - both the table wine as well as the wine for door prizes. Walter was a character in the very best sense of that word. I'll certainly miss him.

While looking for the notice for Walter, I happened to see the notice for Frank Colton. Frank did basic work in birth control R&D for G.D.Searle, and I believe, received the first patent granted to Searle in this field. I spoke to him ca. 5 years ago when I was preparing the program for the Percy Julian Centennial. He declined an invitation to speak, because he had been in retirement and away from the field for so long. I do believe that he spoke on his work at a Section meeting many years ago.

--Jim Shoffner


---
July 15, 2003
Ellis K. Fields, 1917-2003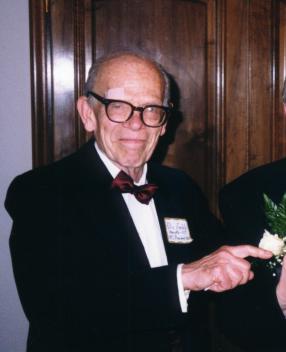 Ellis Fields passed away on Monday, July 14, 2003 from complications during surgery for a blocked carotid artery. Ellis had been president of the National ACS in 1985 and Chair of the Chicago Section in 1971. He had been an adjunct professor of Chemistry at IIT since his retirement in 1992 from Amoco Chemicals Company (now BP) in Naperville, IL. He taught a chemical engineering course "Industrial Chemistry: Catalytic and Thermal Reactions and Processes" in the evenings at IIT's Rice Campus.

As an Amoco Chemicals Company research and development employee for 42 years (first at the old research laboratory in Whiting, IN, then at the Amoco Research Center in Naperville, IL), Ellis had been a leading figure in his profession and developed an international reputation for his research in the fields of novel monomer and polymer synthesis, catalysis, organic photochemistry and heterocyclic chemistry of phosphorus and sulfur compounds. While at Amoco, Ellis had been awarded 222 U.S. patents, written 123 published journal articles, and lectured extensively. He held the title of research consultant for several years prior to his retirement. This title was the highest technical position achievable for scientists and engineers at the Naperville research center.

The 1978 ACS Award in Petroleum Chemistry was given to Ellis "for the extraordinary breadth and originality of his research in organic chemistry over four decades, embracing wide-ranging exploratory studies and equally wide-ranging practical applications." As one example, he helped develop the oxidation process for making terephthalic acid, used worldwide in making polyester.

Some of Ellis' other honors included serving as Almquist lecturer at the University of Idaho (1979); serving as visiting lecturer at Kings College in London (1962-1963); and being named a Fellow at the Canadian Institute of Chemists (1985) and for the American Association for the Advancement of Science (1985).

It was said that when Ellis wasn't in his laboratory, you might find him playing his violin in his Frank Lloyd Wright-designed home in River Forest, IL, or perhaps making some wine in his basement, or writing yet another scientific paper, or lecturing somewhere, or…

He earned his Ph.D. at the age of 21 in physical organic chemistry from the University of Chicago.

A memorial service was held Friday, July 18, at Unity Temple in Oak Park, IL. There was no funeral. Ellis is survived by his wife, Jeanette, daughters, and grandchildren.

Donations in his memory are welcomed at the Unity Temple Restoration Foundation, 708-383-8873, or the Frank Lloyd Wright Preservation Trust. Donations to any wildlife preservation activity would also be appreciated.


---
February 3, 2003
John Huston, 1920 - 2003
Dr. John L. Huston, former faculty member in the Chemistry Department at Loyola University and Chicago ACS Section member, died Thursday night, January 30. The wake was held at the Haben Funeral Home, 8057 Niles Center Road in Skokie. A funeral mass was said on Tuesday at St. Peter's Catholic Church which is just across Niles Center Road from the Haben Funeral home.

Excerpts from the obituary in the Chicago Tribune, 2/3/03:

John L. Huston, Ph.D., age 83, of Skokie, beloved husband of Mary Margaret, nee Lally; dear brother of the late Mary DeStefano and James Huston... Funeral Tuesday 9:15 a.m. from Haben Funeral Home. Mass 9:30 a.m. at St. Peter Church, Skokie. Interment Holy Sepulchre Cemetary, Alsip. Sign the Guestbook at chicagotribune.com/obituaries


---
January 15, 2003
Lawrence Thielen, 1922 - 2003

Lawrence E. Thielen of Villa Park. Active member of American Chemical Society, President Board of Trustee Salt Creek Sanitary Dist. Beloved husband of Patricia nee Theisen; loving father of Peggy (David) Schreck and Maryellen Thielen (Barry) Petrigala; dear grandfather of Lauren, A.J., Ryan, Matthew and Daniel; fond brother of Florita (Bob) Hankins. In lieu of flowers memorials to American Heart Assoc. or American Cancer Society appreciated.

Larry was proud of his 58 years as an ACS member and was one of the computer pioneers for our local section. He was tireless in his efforts and commitment to the success of Chemistry Day.

Larry was a good friend to all, and will be missed.


---
July 12, 2002

Good Morning, Everybody;

I am saddened to report that Dr. Walter McCrone, longtime member and friend of the Chicago Section, international expert in chemical microscopy and great humanitarian, died yesterday. At Dr. McCrone's request, there will be no funeral. There will be a memorial service at some future date.

Condolences may be sent to his widow, Mrs. Lucy McCrone at the address below:

McCrone Research Institute, Inc., 2820 South Michigan Avenue, Chicago, IL 60616 Click here for a discussion of some of Dr. McCrone's contributions. ---ed. ---Jim Shoffner


---
Updated 3/19/10