Map to Ann Sathers
929 W. Belmont
Chicago, Illinois 60657-4408
(773)348-2378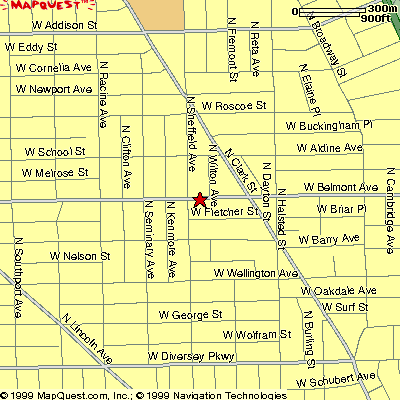 ---
Directions:
Take the Eden's Expressway to Belmont Avenue. Head east to 929 W. Belmont.

or:

From the North or Northwest Side: Head Eastbound on either I-90 or I-94. Exit on Irving Park Road. Head east on Irving Park Road to Clark Street. Turn right (south) onto Clark Street and go one mile to Belmont. Turn right on Belmont and the restaurant is on the left at 929 Belmont.

From the Southside or the Loop: Take Lakeshore Drive north to Belmont. Exit and head left (west) about one mile to the restaurant at 929 Belmont.

Ann Sather Restaurant is located on Belmont just west of Clark and just east of Sheffield. It is within a half block of the Belmont elevated station.

Parking: Entrance to the restaurant's lot is at 913 ½ Belmont. The lot is behind the restaurant. Additional, pay parking lots are located on Clark Street just north of Belmont.

The meeting is on the second floor of the restaurant. Handicapped persons should get special instructions from the Section Office.